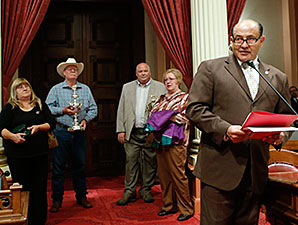 By Debbie Arrington
California's State Capitol went all Chrome on Thursday, Aug. 14.
Both the State Senate and Assembly unanimously approved a resolution saluting 2014 Kentucky Derby Presented by Yum! Brands and Preakness (both gr. I) winner California Chrome, along with his human connections and the state's racing industry.
It's believed to be the first time the California legislature passed such a resolution for a racehorse, said Doug Burge, of the California Thoroughbred Breeders Association.
"It's not only honoring the owners and breeders, but it's important to remind people of the importance of racing," Burge said.
Carrying their Derby and Preakness trophies, co-owners and breeders Perry and Denise Martin of Yuba City, Calif., and Steve and Carolyn Coburn of Topaz Lake, Nev., received a heroes' welcome at the state house. Although the Martins work in Sacramento, it was the first time any of them had seen the Capitol chambers.
"They said, 'Can you bring the horse?' We don't think so," said Steve Coburn. They brought the trophies instead.
It was the first time most of the legislators had seen in person the golden Derby cup or the owner's version of the sterling Woodlawn Vase.
"I've never seen so many of them so excited," said CTBA lobbyist Robyn Black, who helped usher through the resolution. "This is California; they get to see celebrities and sports stars (quite often at the Capitol), but they're really excited about this horse. It's very, very cool."
Racing employs more than 50,000 people in California, home to 148,000 Thoroughbreds, she added. "It's important to acknowledge and remind people of the rich history of California racing," Black said. "It's not only about this wonderful horse, but a celebration of racing today in California."
That point was echoed by the lawmakers.
This is a tribute not just to California Chrome but to the state's $2.5 billion racing industry, said Sen. Alex Padilla, D-Van Nuys. "He's another reason why we cannot let horse racing die in California. It's another reminder that California has top talent around the world and we should not forget our history or our future in horse racing."
Acting very giddy, dozens of legislators lined up for photos with the Chrome crew and trophies. Many of them were dressed in purple and green to match the Dumb Ass Partners' racing colors, or wore California Chrome campaign-style buttons.
"I'm a Chromie through and through," said Sen. Andy Vidak, R-Hanford, among nine authors of the senate resolution. "California Chrome was born and bred in my district (at Harris Farms in Coalinga). I'm very proud of him."
Sen. Lou Correa, D-Santa Ana, led off the parade of legislators who saluted the superstar colt, the only California-bred to win the first two jewels of the Triple Crown.
"Everybody loves an underdog story," Correa said. "California Chrome came out of nowhere to become a force in Thoroughbred racing."
Currently stabled at Los Alamitos Race Course in Cypress, California Chrome resides in Correa's Orange County district, the senator noted.
"But he's not old enough to vote," quipped Perry Martin of his 3-year-old horse.
In the 80-member Assembly, 72 legislators added themselves as co-authors before approving the concurrent resolution.
The Martins and Coburns said they were honored by the tribute. After the ceremony, they delivered the trophies to the California State Museum, where they will be part of a California Chrome display scheduled to open in November. That coincides with the Nov. 1 Breeders' Cup Classic (gr. I) at Santa Anita Park, the next major goal for the Art Sherman trainee.
"People just love the horse," Carolyn Coburn said. "Everybody is so proud of what he's done."
The couples said that California Chrome would have a prep race in September, but they had not yet decided which one. The possibilities are the $1 million Pennsylvania Derby (gr. II) at Parx Racing or the $200,000 Los Alamitos Mile at Los Alamitos, both for 3-year-olds Sept. 20, or the $300,000 Awesome Again Stakes (gr. I) against older horses at Santa Anita Sept. 27.
https://harrisfarms.com/wp-content/uploads/2016/03/harrislogo.png
0
0
none
https://harrisfarms.com/wp-content/uploads/2016/03/harrislogo.png
none
2014-08-14 23:22:04
2016-03-08 20:10:19
Chrome Gets Hero's Salute at State Capitol