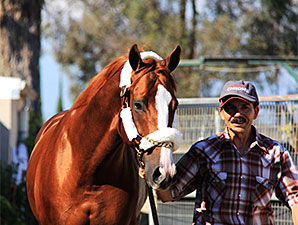 By Jeremy Balan
It was hard to tell who was happier Oct. 13 when California Chrome returned to Los Alamitos Race Course—trainer Art Sherman or the 4-year-old colt himself.
As the truck and trailer carrying the chestnut colt turned into view at the Cypress, Calif., racetrack, the 78-year-old trainer could hardly contain himself.
"Uh oh," Sherman said, breaking into a version of Richard Wagner's 'Ride of the Valkyries.' "Here we go. It feels like a Rocky movie."
California Chrome responded in kind, bellowing out a loud neigh as he approached the Sherman barn and playfully peeking out of the trailer window to get a good look at the home he left March 17.
It's been a long road back to the Golden State, where California Chrome was bred by owners Perry Martin and Steve Coburn (Coburn's share has since been acquired by Taylor Made Stallions). A second-place finish in the Dubai World Cup (UAE-I) March 28 was followed by well-documented and controversial voyage to England, then trips to Chicago and Kentucky, but no more races.
The horse that walked off the trailer Tuesday, however, didn't look like the skinny one seen in photos earlier this season.
Traveling around the walking ring, the 2014 Horse of the Year's coat gleamed in the hot Southern California sun, and he looked heartier. Assistant trainer Alan Sherman said since the colt was sent to Taylor Made over the summer, California Chrome has put on around 160 pounds.
"He's significantly larger than he was when he was a 3-year-old," Art Sherman said. "He looks great."
With a smile plastered on the elder Sherman's face, the Lucky Pulpit colt was loaded into his custom-built, double-wide stall, which Alan Sherman called "California King" sized. Only a day before, the Shermans had a wall knocked out between two stalls to give the dual classic winner some extra room. He greeted his new enclosure with a few rolls in the hay to make it just right.
"What do you think, big boy?" Art Sherman said to the colt from the front of the stall.
Moving forward, the Shermans will be taking their time with their prized pupil, who counts last year's Kentucky Derby Presented by Yum! Brands (gr. I) and the Preakness Stakes (gr. I) among his wins. He'll tack walk the shed row at Los Alamitos Oct. 14 and should be jogging soon.
Art Sherman said it will take a full 90 days to get California Chrome back into shape and that his first target will be the San Pasqual Handicap (gr. II) in January at Santa Anita Park, with another run in Dubai and the Breeders' Cup all part of a tentative plan for his 5-year-old season. But the immediate challenges of training stand out.
"He's hasn't had a saddle on him in over three months and he's a lot of horse," Art Sherman said. "I'm glad I'm not getting on him, because he might be doing a couple handstands."
Those challenges can wait, though. In the day-by-day business of horse training, Tuesday was a happy one because the big horse was back home. Art Sherman was not going to overextend beyond that, looking forward or behind.
"He's taken us to spots few people have been and it's exciting to have a horse like that, but I don't like to backpedal, especially in this business," the trainer said. "Things have a way of turning around. What goes around, comes around, and I'm a big believer of that in life.
"It's going to be a challenge to get him back to his peak, but there's a chance he could be a better horse. You just don't know. If he's better, he's going to be an awesome horse next year."
https://harrisfarms.com/wp-content/uploads/2016/03/harrislogo.png
0
0
none
https://harrisfarms.com/wp-content/uploads/2016/03/harrislogo.png
none
2015-10-14 13:24:06
2016-03-08 19:53:24
California Chrome Back Home in Sherman Barn