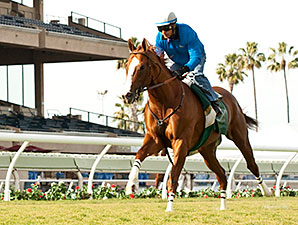 By Jack Shinar
California Chrome had his first breeze over the turf at Del Mar Nov. 23, after which trainer Art Sherman told reporters he would enter the dual classic winner in the upcoming $300,000 Hollywood Derby (gr. IT).
With the dogs well out on the turf course, California Chrome was timed in :52 flat for four furlongs. The flashy chestnut colt appeared a little tentative as he began his move under regular rider Victor Espinoza, but was striding smoothly while evenly paced through the stretch.
"I was satisfied with the work. Of course, he was pricking his ears out there," Sherman said. "Victor said he didn't know if (California Chrome) was going to work or gallop. He felt smooth underneath him. That was my main concern."
Sherman added that he would give California Chrome "an open gallop down the lane Thursday (Nov. 27) just to be sure he likes the grass, which I think he will. That will be his second time on the course and that will make a big difference."
Asked specifically about entering the Kentucky Derby Presented by Yum! Brands and Preakness (both gr. I) winner in the 1 1/8-mile Hollywood Derby at Del Mar Nov. 29, Sherman responded: "I'm looking forward to that race right now."
California Chrome has never raced on the turf before and Sunday's move was his first workout over the surface. He is also nominated to the Native Diver Handicap (gr. III) on Del Mar's Polytrack the same day. Entries for both races will be taken Nov. 26.
If California Chrome runs next Saturday, he will be the seventh Kentucky Derby winner to race at Del Mar after winning the classic in the 75-year history of the track.
With an estimated crowd of 500 watching, California Chrome was given the opportunity for a solo run over the Jimmy Durante Turf Course. He entered the turf from a gate just past the finish line, his chestnut colt glistening in the early morning sun.
The colt jogged easily around the clubhouse turn to the backstretch, then broke off from the accompanying pony and started the half-mile work. Track clockers had fractions of :13 4/5 and :26 3/5 for the first two furlongs, meaning he worked a final quarter in :25 2/5.
Sherman said he has no concerns about California Chrome's fitness following his gallant third-place effort while wide throughout in the Breeders' Cup Classic (gr. I) Nov. 1, which he lost by a neck. Consequently, he said he wasn't looking for a big effort in Sunday's drill, just evidence that his colt would handle turf.
"My main concern is just his stride on the grass," Sherman said. "Cutting back from a mile and a quarter, if he's not fit now, he'll never be. I'm going to enter him on Wednesday. Of course, there are two races we can go in. I'd love to go in the (Hollywood Derby).
"I'll have him ready for this race," he added
With a tight race for 2014 Horse of the Year honors, Sherman said he thought a victory by California Chrome in the Hollywood Derby could make a difference to the voters. Beyond that, if California Chrome can pass his first grass test, it would open up a number of other possibilities for the son of Lucky Pulpit next year, not just in the United States but in England as well.
"It would be fun to meet the queen," he joked. "My jockey is already good friends with her."
https://harrisfarms.com/wp-content/uploads/2016/03/harrislogo.png
0
0
none
https://harrisfarms.com/wp-content/uploads/2016/03/harrislogo.png
none
2014-11-24 01:28:59
2016-03-08 20:05:18
Hollywood Derby Likely After Chrome's Workout